Cable Curls
Isolation exercise, Cable pull
Overview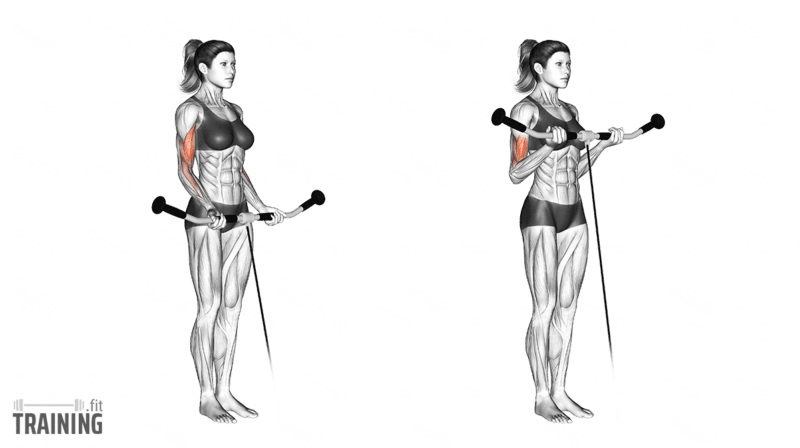 Difficulty
Easy
Required equipment
Main muscles
Biceps: Arm flexor


(Musculus biceps brachii)

Upper arm: Coracobrachialis muscle


(Musculus coracobrachialis)
---
Training plans
Here you can find example plans for cable curls training:
Cable Curls: Basics and alternatives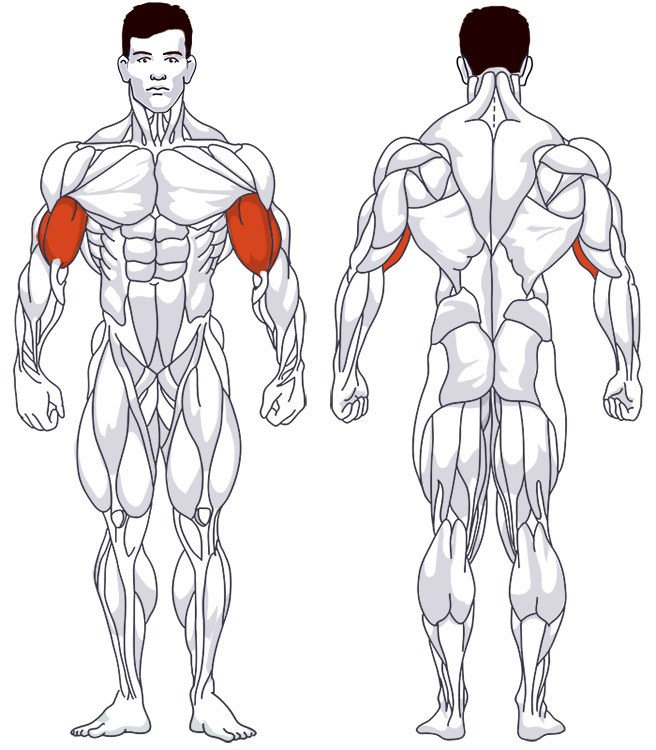 Involved main muscle groups:
Cable Curls
Cable curls are a popular alternative to regular dumbbell biceps curls. Just like with dumbbell curls, you move the weight by flexing and extending your arms at the elbows. Cable curls offer a more guided range of motion compared to free weights but not as restricted as curl machines.
A significant advantage of cable curls is the ability to use various grip types. This allows you to vary your cable bicep curls, targeting different areas and using unique movement sequences with different focuses[1].
As an alternative to low cable curls, you can also perform biceps curls with a high mount. However, high cable curls are best performed on a crossover cable pull tower to ensure an even load.
Below, we describe the "normal" version with a straight handle, followed by alternative versions with a rope or an EZ handle.
Correct execution
Cable curls are popular not just for their various grip options, but also for the constant pull on the arms. They offer a greater range of motion and stronger muscle activation compared to machine exercises[2].
You should consider cable curls as a substitute for machine exercises and a supplement to dumbbell biceps curls.
Cable curls are also great for training your muscles after a workout with free weights because of the constant pull. You can choose a much lower weight and perform the movement more slowly and controlled than usual.
Additionally, you can use the cable pulley to perform isometric curls. This involves bending your arm and keeping it still for a short period as you lower it into various positions.
Video tutorial
Step-by-step instructions
Choose your weight and attach the handle to the lower cable pulley mount.
Grab the handle with an underhand grip (back of the hand facing down). Lift the handle with the cable attached by bending your knees, keeping your back straight, and standing up using your legs. Avoid lifting the weight with an arched back.
Keep your arms extended in front of your body.
Position yourself far enough away from the cable pull tower so that the weight is slightly lifted off the rest of the weight block in this extended position. This ensures that the selected weight doesn't rest on the block during the exercise.
Stand with your feet shoulder-width apart.
Now bend your elbows, bringing your forearms upwards. The handle and your hands move towards your face. The movement should come exclusively from your elbows.
At the end of the movement, lower your forearms back down in a controlled manner, maintaining muscle tension. Use the full range of motion for the best muscle stimulus.
Common mistakes
Just like with other biceps curl variations, it's common to see people swinging the weight on the cable pulley. This should be avoided, as it reduces muscle stimulus and increases wear on the cable tower, cables, connectors, and pulleys.
Also, during the exercise, only move your forearms when curling. Keep your shoulders, back, and legs as still as possible throughout the exercise.
Differences in Muscle Activation and Kinematics Between Cable-Based and Selectorized Weight Training. Signorile, Joseph F. et al. The Journal of Strength & Conditioning Research: February 2017 – Volume 31 – Issue 2 – p 313-322. doi: 10.1519/JSC.0000000000001493. https://journals.lww.com/nsca-jscr/Fulltext/2016/07000/Differences_in_Muscle_Activity_During_Cable.25.aspx, retrieved 04/15/2020
Differences in Muscle Activation and Kinematics Between Cable-Based and Selectorized Weight Training. Signorile, Joseph F. et al. The Journal of Strength & Conditioning Research: February 2017 – Volume 31 – Issue 2 – p 313-322. doi: 10.1519/JSC.0000000000001493. https://journals.lww.com/nsca-jscr/Fulltext/2017/02000/Differences_in_Muscle_Activation_and_Kinematics.5.aspx, retrieved 04/15/2020