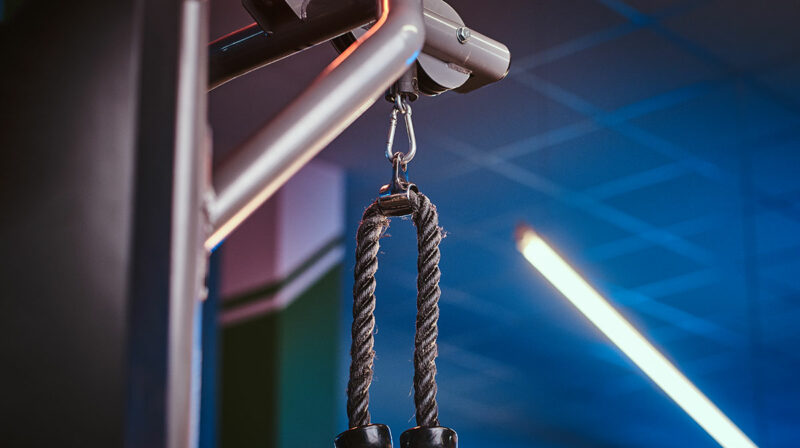 Cable pulleys, rope pulleys, and cable towers are different names for the same essential piece of gym equipment. They feature weights attached to steel cables, which can be moved using a specific fixture. The key advantage of these machines is that they offer "semi-guided" fitness and strength training exercises, which aren't as free as dumbbells or barbells but not as rigid as machines.
Different Versions
Cable towers come in numerous designs, like most other fitness equipment. The majority have two mounts—one on top and another on the bottom. Some models only have one height-adjustable mount, making them easier to customize.
Additionally, it's important to note whether the cable pulley has fixed weight blocks or requires attaching weight plates. The latter is common for home gym equipment, usually featuring 30 mm mounts.
For cross exercises—meaning simultaneous workouts on both sides—you'll need a cross cable pull tower. The two stations are usually parallel but occasionally set at an angle to each other.
What to Look for in a Cable Pull Tower for Your Home Gym
Before buying a cable pulley for your home gym, consider the following factors:
The height of the tower varies by manufacturer. If your home gym is in the basement, you may need a lower build height. Some cable pull stations are available as low as 2 meters high.
Home floors usually aren't as well-padded as gym floors. A cable pull tower with a shock absorber at the end of the weight plate is recommended for home use. It allows you to set the weight down more gently and better protects your home's structural integrity.
Some cable pull stations come with a built-in bench. Home gym stations tend to be compact, so the seat is often close to the weight plate mounts. Be careful not to injure your knees when releasing the weight. Alternatively, look for a freestanding tower and add a bench as needed.
Cable towers typically stand on the floor and are fixed to the wall for improved stability. This setup is usually straightforward due to the weight bearing on the ground. However, if the cable pulley is exclusively wall-mounted, ensure a stable structure to prevent it from falling during your workout.
If you own or plan to buy a power rack, check if it's compatible with a cable pull tower. Usually, one can be attached to the back of the rack, saving space and providing stability without wall mounting.
Working out with a cable pull station
You can perform the following exercises with a cable pull station.
Filter the exercises below by muscle group and difficulty.