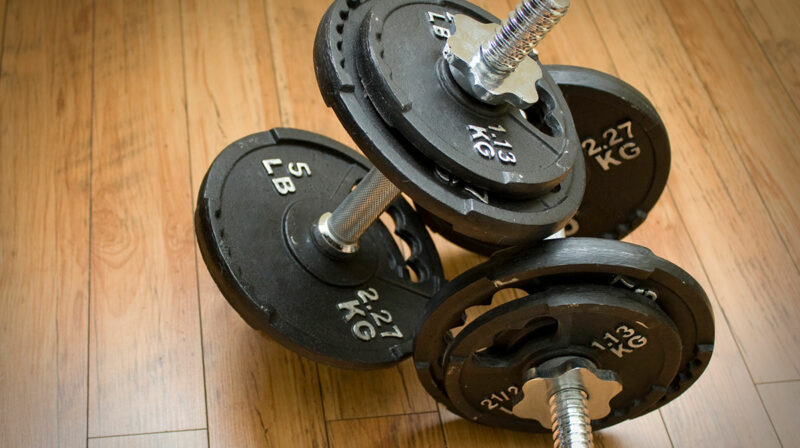 Dumbbells are a classic fitness and strength training tool, featuring a bar with symmetrical weights on each side, held with one hand.
In gyms, you'll typically find extensive sets of dumbbells with permanently mounted weights. This design makes it easy to switch weights by simply placing the dumbbell back on the rack and grabbing a new one. It's not only practical and time-saving but also stable due to the fixed mounting. Gym staff may occasionally need to tighten screws, but further maintenance is rarely required. The flat outer sides, often rubberized, make it easy to rest the dumbbells on your knees for various exercises.
Types of Dumbbells for the Home Gym
For home training, adjustable dumbbells are more common. They're space-saving and significantly cheaper. There are a few variations:
Dumbbells with screw caps are popular for home gyms. With this type, weight plates slide onto the dumbbell and are secured with a screw cap. This design is stable but may rattle if the screw caps aren't tightened firmly. Different dumbbell lengths accommodate varying maximum numbers of weight plates.
Dumbbells with smooth supports are quite rare. While they offer the advantage of not having to screw weight plates on, most spring clips used for securing the weights are too weak for safe use when the dumbbell is turned. Overhead exercises can be particularly risky. Sturdier clamp closures are available, but their safety buffer is likely lower than screw caps.
Adjustable dumbbells have gained popularity in home gyms due to their space-saving design and quick weight adjustment. No need for time-consuming switching or screwing. Weight adjustment is typically done with rotary knobs at the ends, on the top, or on the grip. In other variations, weights are secured with side bolts. However, these dumbbells have two downsides: they are bulky, making them harder to handle and limiting certain exercises, and the moving parts increase the risk of wear and tear compared to simple cast iron discs.
As mentioned, complete dumbbell sets for home strength training are rather rare. However, for gymnastics and other sports with lighter weights, fixed-weight sets with 3 or 4 pairs of dumbbells in lower weight ranges are available.
Working out with dumbbells
You can perform the following exercises with dumbbells.
Filter the exercises below by muscle group and difficulty.