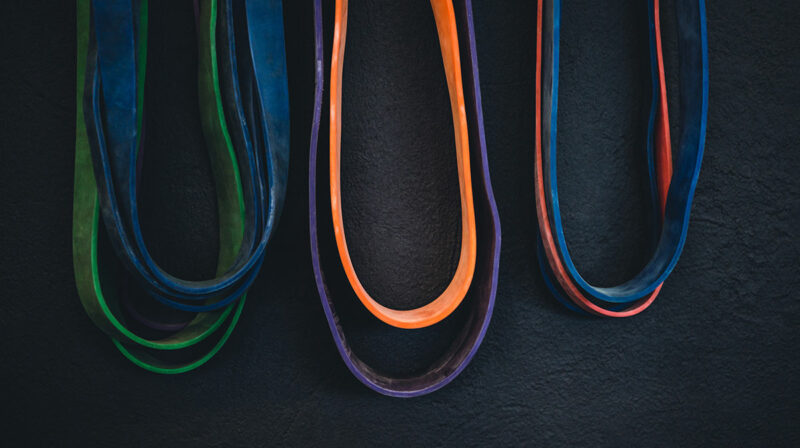 There are various types of fitness bands, each differing in design, material, resistance strength, length, and thickness.
The three primary types of fitness bands are:
Latex bands/Therabands
Deuser bands
Resistance bands
All fitness bands share the common trait of being elastic and compact training equipment that enables you to perform numerous well-known fitness exercises at home or on the go. They're also used in physiotherapy.
What is a Theraband/Latex band?
A Theraband is a flat, circular closed fitness band. Theraband is a brand name that has become synonymous with latex bands. So, when searching for a Theraband, you might find not only original products but also various other latex bands with a similar shape.
These latex bands come in different strengths and lengths. The original Theraband uses a color-coding system to show the resistance level at a glance, listed below from weakest to strongest:
| | | |
| --- | --- | --- |
| Color | Resistance | Target Audience |
| Beige | very light | Rehab, seniors, children |
| Yellow | light | Rehab, seniors, children |
| Red | medium | Beginners, women, teenagers |
| Green | medium-strong | Men, women, teenagers |
| Blue | strong | Men, trained women |
| Black | very strong | Trained men |
| Silver | extra strong | Very well-trained men, athletes |
| Gold | maximally strong | Athletes |
Most imitation bands typically have a color-coding system as well, but it doesn't follow the original system. So, when purchasing fitness bands, always make sure to check the resistance level.
What is a Deuser band?
A Deuser band is also a circular closed fitness band with a protected brand name. It's thicker than standard latex bands, and most versions are made of natural rubber. This makes the Deuser band a great alternative for those with a latex allergy.
The plus version, on the other hand, is made of synthetic elastomers.
Like latex bands, these fitness bands come in various resistance strengths, although the selection is smaller.
What is a resistance band?
Technically, both Theraband and Deuser band fall under the category of resistance bands. In addition to the circular closed design, there are resistance bands that allow for the attachment of handles on both ends.
These types of bands are not closed but have two end pieces. Like most other fitness bands, they're usually made of latex.
A fixed length and loops at both ends can be advantageous for specific exercises. However, the downside is that the resistance can't be easily adjusted by changing the grip.
Besides open-ended resistance bands, there are also circular closed textile bands. These might be a useful alternative for those with a latex allergy and may also be more comfortable for other exercisers to handle.
Avoiding damage to fitness bands
With proper use, most fitness bands are unlikely to be overstretched. However, they can be damaged by fingernails, rings, and similar items. Therefore, it's essential to remove jewelry before training.
Also, it's important to check that any rental bands are undamaged before use. In the worst-case scenario, a damaged band could break under high tension, which can quickly become unpleasant or even lead to injury.
Working out with fitness bands
You can perform the following exercises with fitness bands.
Filter the exercises below by muscle group and difficulty.